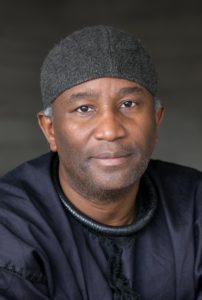 Patrice Naiambana is an award winning African-Performing Artist/Animateur Sierra Leonean-Bermudan who has lived and schooled in the UK, France, Barbados and Sierra Leone. He apprenticed with African Theatre Masters Yulisa Amadu Maddy Artistic Director of Gbakanda Tiata in Leeds and Dele Charley Artistic Director of Tabule Tiata in Freetown.
Current projects include  facilitating a lab space, The Decolonial Salon; a digital performance piece on migration and exile entitled Perception Gap and Fresh Conversations for Diversity in the NHS. He has been facilitating diaspora performance, post-colonial literacy, theatre process and training for over 25 years. He initiated Tribal Soul – a diaspora learning and creating space, in 1991. His lab facilitation and ensemble work on Shakespeare as a lingua franca and The Gospel of Othello diaspora canon spans 11 years in several countries in diverse environments.
His story-making vocation has been enriched by professional performing experience with world leading practitioners and companies including Kwame Kwei-Armah (TREE), Bijan Sheibani (Barbershop Chronicles), Marcello Magni (Tell Them I am Young and Beautiful), Kathryn Hunter (Pericles), Steven Berkoff (Coriolanus), The Royal Shakespeare Company (The Histories, Othello), Adrian Noble (The Lion, The Witch and The Wardrobe), Film, Television, Radio and voice-overs. His Edinburgh Fringe First Award winning solo show The Man Who Committed Thought toured internationally, facilitating artists and citizens lab creativity for social transformative action.
He uses the story space to put 'flesh on silences' whilst developing community collaborations, craft, critical thinking and leadership skills. His conceptualisations and directorial work  include The Accused, Swarte Piet Speaks, Gravediggers, The Sacrifice and Chapeltown Blues. Under pinning his work is the creolisation aesthetic and exile heritages that characterise the Diasporic imagination.
He has extensive experience facilitating residences in all sectors of education, including The University of Texas, Roosevelt Academy (Netherlands), Warwick University, Royal Birmingham Conservatoire, and RADA.
Patrice teaches on Mountview's MA Theatre for Community and Education.
Read our Q&A with Patrice.