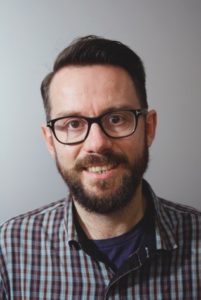 Adam Finlay is co-founder and Studio Director of NOVAK, a creative studio producing innovative and ambitious art and design projects.  NOVAK specialises in motion design and immersive experiences, encompassing projection mapping, art and museum installations, stage visuals for music artists and video accompaniments for theatre and dance performances.
The work of NOVAK is often site-specific and on a grand and spectacular scale, that transforms and reimagines locations into extraordinary displays of colour and motion. Informed and inspired by the location of the work, their designs are visually stunning, while also conveying geographically relevant historic and cultural narratives that resonate deeply with audiences.
NOVAK has presented work throughout the world and at some of the most highly regarded arts festivals, including the UK's largest light festival, Lumiere (London, Durham and Derry-Londonderry), Leeds Light Night and the internationally renowned Singapore Night Festival. Their work has also featured alongside many critically acclaimed musicians at some of the world's leading music events; including Glastonbury (UK), Coachella (USA), Fuji Rock (Japan) and Roskilde (Denmark).