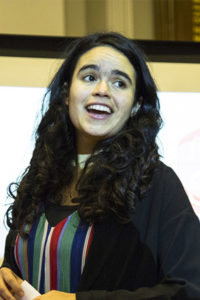 Andrea Spisto is a Venezuelan/Curaçaoean performance artist, film-maker and neuroqueer clown, whose work focuses on playful autobiographical exploration through physical masks (characters) that delve into the corners of the psyche. The work follows thematic interweaving, moving adjacent to narrative storytelling.
Straddling live art, comedy, theatre and clowning, Andrea's work has been described as genre smashing, surreal, gentle and exuberant. Andrea is a graduate in Devising Theatre & Performance at LISPA (Art-Haus Berlin) in Lecoq, specialised in clown through mask & embodied movement.
As a teaching facilitator Andrea has worked alongside Benjamin Zephaniah on the Poetry and Performance module at Brunel University. At Mountview, Andrea focuses on artist development, and uses her experience in television and theatre production to empower students around the topics of money, production and wellbeing for a sustainable artistic practice.
Works include: Miss Venezuela (2018), Butch Princesa (2019-2021), Tylor and Vincent: The Pilot (2018), Tylor and Vincent: Pussy and Money (2019), 50 Ways to Kill A Slug (2019), Tylor and Vincent: At Home (2020), Isla/Island (2021), REMOTE_CRTL Mimu Gloves Residency (2021)