Amanda Holden awarded Honorary Doctorate at Mountview Graduation 2019
Amanda Holden was awarded an Honorary Doctorate at Mountview's graduation ceremony on Wednesday 20 November. The award was made in recognition of Amanda's outstanding contribution to the UK's arts industry. The ceremony took place at the Union Chapel in Islington where the graduating class of 2019 all received their degrees.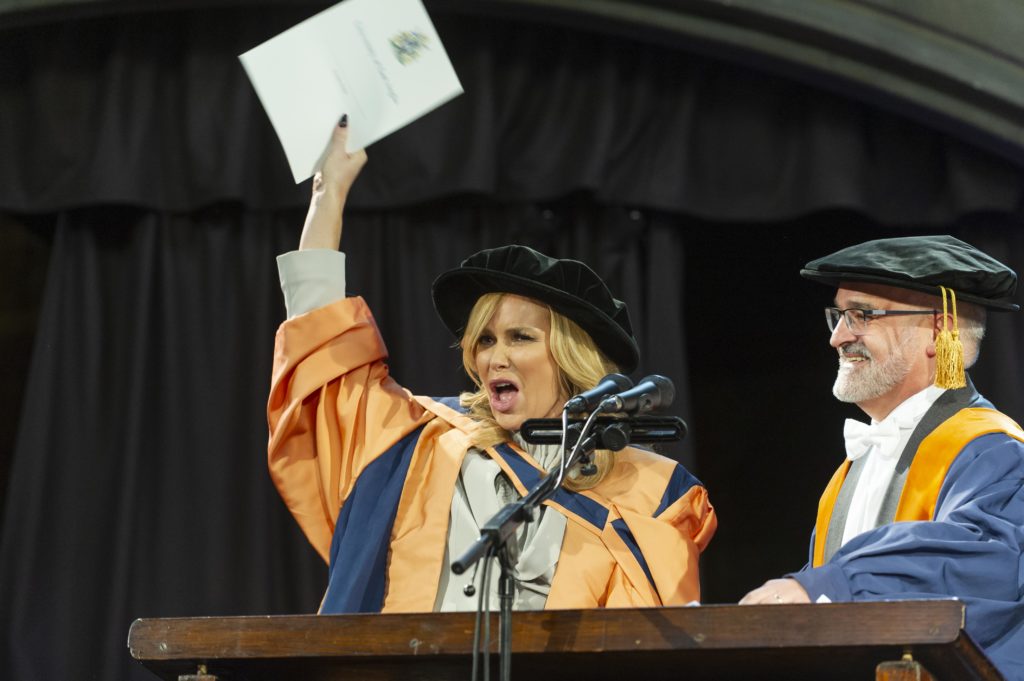 A Mountview alumna (from the class of 1992) and award-winning actress, Amanda Holden has enjoyed a rich and varied career over the last 27 years on stage, screen and radio, and is now also an Honorary Doctor of Letters.
Amanda currently presents the national Heart Breakfast Show alongside Jamie Theakston, which is the biggest commercial radio show in the UK with 4.6 million listeners, and earlier this year she starred in ITV's Roman comedy Plebs marking a pleasing full circle return to the scripted/sketch comedy shows that she started out on.
A few highlights from Amanda's incredible career include television drama Hearts and Bones, her starring role in the 2003 West End production of A Thoroughly Modern Millie for which she was nominated for a Laurence Olivier Award; a BAFTA nomination for Cutting It as well as a vast range of presenting duties including This Morning. Some of Amanda's presenting roles have made unusual demands of her including training as a midwife to deliver 5 babies for ITV1 documentary Out of My Depth and crashing a police car into warehouse and jumping off a 60ft building to become a stunt woman for ITV's Amanda's Fantasy Lives. From 2006 until 2008 Amanda played the leading role of Sarah Trevanion in three hugely successful series of ITV1's Wild at Heart reaching over 10 million viewers.
However, Amanda is probably best known as the longest standing talent show Judge (14 years) on Britain's Got Talent, having been on the show since the launch in 2007 sat alongside Simon Cowell. During this time the show has pulled in audiences in excess of 20 million viewers and series four resulted in the discovery of the worldwide phenomenon Susan Boyle.
Amanda joins previous recipients of Mountview Honorary Degrees Dame Judi Dench, Noma Dumezweni, Eddie Marsan, Tim Minchin, and Roy Williams OBE.
Amanda paid tribute to the training that she received at Mountview in a touching and at times hilarious acceptance speech
Amanda said: "Well, Dr. Mandy will most certainly see you now. Oh that sounds good, Dr. Mandy. Now I guess I can prescribe myself, oh how I could have done with that early in my career. I mean, little old me getting something like this. When I heard I was almost as surprised as when I watched Prince Andrew mention he popped into Pizza Express in Woking on the 10th March 2001! Seriously though, this is an unbelievable honour. Remember, always, always pursue your dreams. You and your fellow Mountview students are coming from the best possible place to do that, especially with the incredible new building in Peckham that I visited this month. I have such fond memories of my time at Mountview, they really gave me the tools to do absolutely anything I wanted and I've never looked back. So go out there and show the world what you've got. Life is tough and what we do is provide people with an escape… just for a short time. I'm not claiming that our craft is the panacea for all ills, I'd never do that, mainly because I don't know what panacea means, but from the beginning of time there has been a need for people to express themselves artistically – yes, we are the modern day equivalent of cave drawings – but that need is what allows the world to breathe, to take some time to interpret the chaos and, quite simply, to just experience some joy. As Picasso said, Art washes away from the soul the dust of everyday life."
Stephen Jameson, Principal and Artistic Director of Mountview, said "Mountview's honorary degrees are awarded to individuals of distinction in the arts. It is fantastic to be able to celebrate Amanda's full and varied career since graduating from Mountview. A familiar face on screen onstage and now on air Amanda epitomises the type of career that can grow out of the training that we are so proud to offer at Mountview".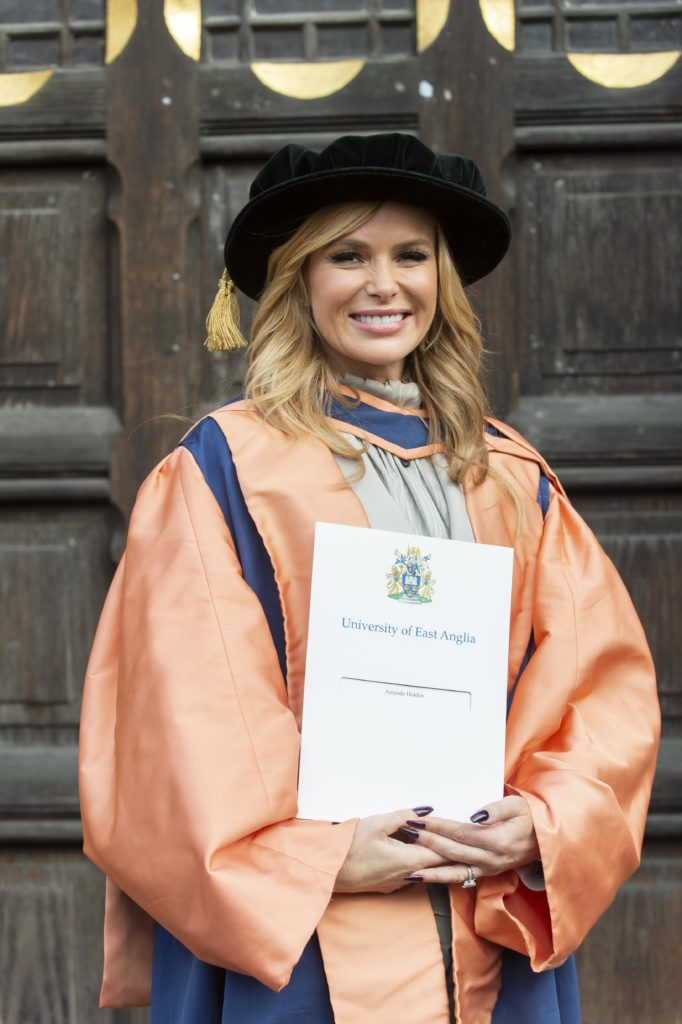 All photos copyright: Robin Savage