Meet our Stage Management Student: Anna Matthiesen
Meet Anna Matthiesen, our third year FdA/BA (Hons) Theatre Production Arts – Stage Management student
What attracted you to this industry, and what made you choose Mountview?
Theatre has always been magic to me. Working in an environment where we create magic is the best profession in the world. For my Mountview interview, I was interviewed by two women who lead the Stage Management Department which I found really cool and made me feel very welcome.
What has been your best Mountview experience to date?
Being the Show-caller for our production of Les Miserables in 2021.
How has your training changed you as a person?
I've become more observant, learned to work with all kinds of different characters in the entertainment industry and got a deep understanding of how this industry works.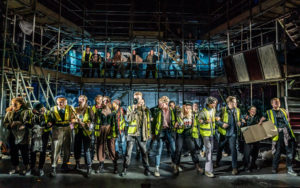 What's the most valuable lesson you've learned so far?
No one is irreplaceable.

What would be your dream project to work on?
I would like to be a Stage Manager on a world tour of a Cirque Du Soleil show.
What advice would you give to someone thinking of studying your subject?
Have passion, commit to your dreams and have fun.
What do you want your job title to be in 10 years' time?
Anything creative in this industry.
Discover more about Stage Management at Mountview.