Mountview Volunteers - The Show Must (Still) Go On!
Continuing on from last week's blog post, we we're taking time to celebrate all the ways in which Mountview's staff and students have been supporting others during the Covid-19 pandemic. Whether by sewing scrubs, writing songs, working at Tesco or engaging with their community, our Mountview family is determined to make a difference.
Mountview's own Meredith Dufton (Joint Head of Movement) has been sharing her skills with her neighbours. "I've been teaching a Chi Kung exercise class in my street." She explains, "People come out to the front of their houses to do it and we all socially distance. The people who attend are aged from 7-92 and I try and use material that everyone can do, more or less!" It's been a huge success and great for stopping people feeling isolated. "I think it has been one of the things to cement the sense of community in our street as when the class is over everyone has a bit of a chat from a distance and we see how everyone is."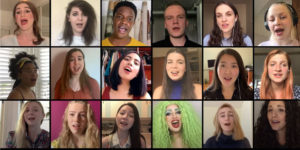 Elsewhere, second year Acting student Richard Dobson has written and performed a Covid-19 inspired poem on Youtube (watch it here). Members of the Mountview Post Graduate community lent their voices to 'Wait', written by Melissa Camba, Lexi Clare and Hannah Cound – a song which was written across 3 different timezones, and recorded with 18 performers in more than 8 different countries!
Closer to home, Mountview students have been using technology to inspire one another stay connected. Alistair Kennard started an initiative for the first year Musical Theatre students, where someone is picked at random and celebrated by the whole year group – "It's a good way to keep everyone motivated and connected" he says.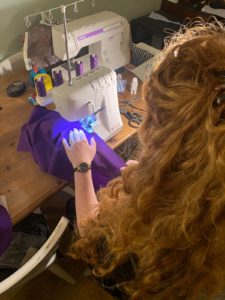 Meanwhile, Senior Stage Management tutor Ella Ashworth has been spending her maternity leave sewing scrubs for the NHS, while also juggling a 7 month old!

Eileen Nash has also been fundraising for the NHS. "I've started an online second-hand store called Refiveal, with a percentage of the profits going to the NHS." explains Eileen "My hope is to give everyone an accessible price for clothing (everything is £1 or £5) during this trying time – and they don't need to worry about impacting the environment with their purchase because every piece of clothing is recycled. The world around us right now is a scary one; we're unsure of so much. The only thing everyone can unanimously agree on is that our health heroes need help. They need funding, equipment, and space, and the best way we can help is to stay at home and donate what we can."
Meanwhile, first year Actor-Musician student Imogen Ardley has been using her time away from Mountview to answer the supermarkets' call for staff. "I'm currently working at my local Tesco's to help out where I can!" she reports, adding that it's a family effort – "My mum is a nurse and my dad is also a key worker!".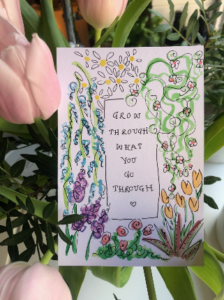 Others have been spending time in their local communities, and helping out people in need with daily assistance. "My family and I have been collecting and delivering people's shopping" says Frances Nicholas, "And my mum and I have also been sewing scrubs for our local hospitals to collect."
Kathy Allman, Mountview's Scheduling & Planning Manager, has also been helping out in her local community. "Through my local church I've been paired with an older person in the community to assist her is any way I can" explains Kathy, "I run errands, shop, collect medication and call her every few days just to check she is ok, she had a hip replacement op a few weeks before the lockdown so I also have her deliveries sent to my house as she missed a few because she couldn't get to the front door in time." And unexpectedly, it's not the first time Kathy has crossed paths with her new friend… "She was my Brown Owl when I was a Brownie 50 years ago… she scared me then and she still does now!"