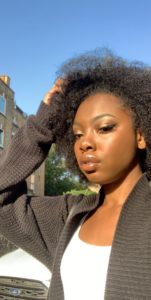 I started singing in church but had never done any acting or dance until I went to sixth form. I didn't know I was any good until I auditioned for Mountview's Musical Theatre degree. It was there that Eddie Gower, Head of Short Courses, said 'You have potential, you just need a bit of a push'.
They offered me the Musical Theatre Foundation Course but it was bittersweet: a top drama school thought I had potential, but I couldn't pay for training. I remember thinking 'I work cleaning toilets, I can't afford to go to drama school'.
Then Eddie told me about the Leverhulme Scholarship. I didn't think I would get it, but there was nothing to lose. I got the scholarship, and it was the best experience of my life. I wouldn't be in the position I'm in now without it.
The Judi Dench Fund will make a world of difference. It's not enough to just get your foot in the door at drama school. You need to have a cushion. You need to be able to live. If you're at drama school, you might be able to cover your rent, but if you're not eating well, you're working all hours of the night and you can't get to class in the morning, it doesn't make sense. The support offered through the Judi Dench Fund is exactly what we need to level the playing field.