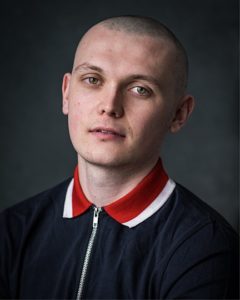 Mountview was the only school willing to give someone like me a chance. I was going through the homeless system when I applied and I thought going to drama school was going to be an impossible mission, but then Mountview offered me a place and a full scholarship. It changed my life.
Training at Mountview was amazing, but it was also very hard. I came from a lifestyle without any structure, so being in class for 36 hours a week was a huge shock to the system. In my first year, I didn't realise how my crazy upbringing was affecting me. I was in an intense training environment, being encouraged to connect emotionally, yet I couldn't articulate my past experiences. The support of Amy Barber (Student Welfare Manager) and my personal tutors meant I always had someone to turn to. They became a family for me.
I didn't know that I was going to be made homeless again in January of my final year. Knowing the Judi Dench Fund will help future students in my position through emergency grants and wellbeing support is amazing.
My three years at Mountview were incredible. I learnt so much, gained a degree, a top agent and have already shot my first role for a feature film. I couldn't be more grateful for the chance Mountview gave me.