Meet our MA Theatre and Community Education Students
Our first ever cohort of MA Theatre for Community and Education are part way through their first term of training. Students have been busy learning how to combine their individual artistic practices with a range of different approaches to theatre and theories, from the teachings of Jacques Lecoq, to feminist and decolonial theory, to methods for delivering creative workshops in prisons. We caught up with Course Director Maria Askew and students Anne-Marie Sewell and Rina Mushonga to talk about their experiences and hopes for the MA course.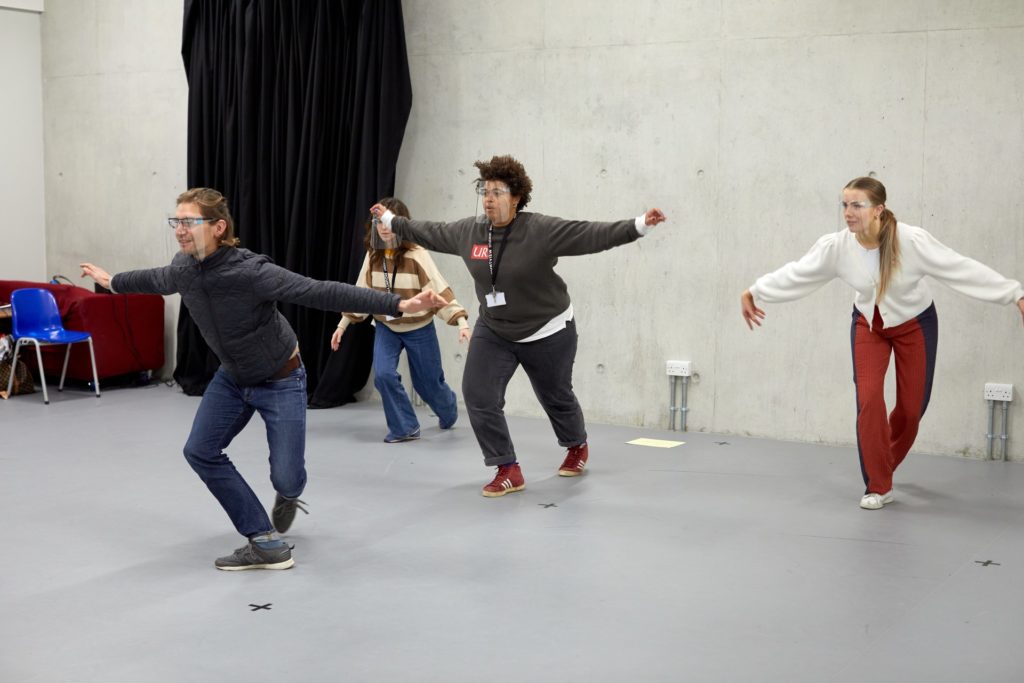 What motivated you to apply for this course?
Rina: I'm primarily a recording artist, but have also done some directing with youth theatre companies. I'm at a stage in my career where I want to improve my theoretical knowledge. What really appealed to me about this course was the idea of theatre as a tool for social change. It's something I've been thinking about a lot, particularly this year: how can I practice my craft in a more meaningful way and share access to the arts with people who are often excluded?
Anne-Marie: I'm a professional dancer with an interest in physical theatre that has an impact. During lockdown, there weren't many opportunities for performance work, so I started looking to shift direction and found this course. Now seemed like the perfect time to go for it!
Maria: I think one of the things that attracts people to this course is the opportunity it offers to explore social issues. I find all my students to be very socially engaged, critical and questioning. This is what we need right now!
Accessibility is one of the core values of this course. How has this been created and what does it mean for you?
Maria: Our part-time structure is key to this. Many people work alongside their studies anyway, but this makes it more feasible. It means that the course appeals to all kinds of people, including those who are already working in industry. Then, this space of research and learning can inform what's going on in their lives and their other experiences can be shared reciprocally here.
Anne-Marie: The broad syllabus creates an open and accessible feel to the course. In our group, we're all from completely different backgrounds. Lots of us are performers, but it isn't a performance course. You could come from any background and get a lot out of it, which makes it very different to other arts courses.
Rina: As a parent, the part-time structure is really helpful for me. As the course progresses, it will hopefully also mean that I can apply my new skills to industry projects.
What do you hope the impact of this course will be?
Rina: It's hugely important to have this course at a place like Mountview. Although progress is being made, it's still the case that the majority of drama school students are white. We need to train future practitioners like myself and Anne-Marie to understand topics like colonialism and feminism, so that we can use this knowledge when we start teaching and directing.
Anne-Marie: I've learnt so much from this course that isn't even about theatre! We're talking about such important topics and I'm always left wondering why I've never had these conversations in an educational setting before. It also shows that the arts aren't just entertainment: they're a fantastic way of communicating important messages. Courses like this will be vital for the future of the arts.
Rina: It goes beyond showing the importance of the arts. We're also thinking about questions like 'why aren't marginalised people better represented in the arts?' Through art, we reflect people's lives. If we're not reflecting stories about black people, or queer people, then something in art is broken. It's like painting a field of wildflowers, but doing it in black and white. We need to be asking ourselves 'what can art do better?'
Find out more about MA Theatre for Community and Education
Photographer: Tom Harrison